About the Industrial Engineering Online Masters of Engineering Management
The department of Industrial Engineering (IE) offers an online Master of Engineering Management degree. The Engineering Management graduate program bridges the gap between engineering and technological problem-solving abilities of engineers with the administrative ability of managers to lead the day- to-day operations of today's complex and global organizations. The online structure of the program allows engineering professional to pursue the graduate degree in Engineering Management (MEMGMT) in an effective and efficient manner. At the time of graduation, graduates are familiar with a variety of the engineering and management theories, concepts, tools, practices and procedures for leading and managing other engineers within their organization.
Careers in Engineering Management
State of Texas is one of the top paying states for engineering managers with the average annual salary of at $167,230. According to The Bureau of Labor Statistics employment of engineering managers is projected to grow 6 percent from 2016 to 2026. Engineering managers in the engineering services industry is projected to grow 13 percent from 2016 to 2026, adding the most new jobs. Engineering services includes consulting firms that provide services to many other different industries. Table below lists the different job categories engineering managers.
Courses and Curriculum
A qualified student can complete MEMGMT (Course-Based) in 30 hours as given by below:
30 Credit Hours
List of Course
6 required core courses in IE Department
IEEM 6330 — Managing Engineering Functions
IEEM 6331 — Quantitative Methods for Engineering Management
INDE 6332 — Engineering Project Management
IEEM 6335 — Engineering Management of Organizations
IEEM 6360 — Data Analytics for Engineering Managers
INDE 6380 — Accounting for Engineering Managers
2 management selected courses from Bauer College of Business
MANA 6332 — Organizational Behavior & Management
MANA 6383 — Strategic Management
MANA 6388 — Corporate Strategy
MANA 7329 — Behavioral Finance
MANA 7330 — Legal Environment of Management
MANA 7334 — Management of Development & Career Planning
MANA 7336 — Human Resource Management
MANA 7339 — Leadership Development
MANA 7340 — Management of High Technology Organizations
MANA 7341 — Strategic Management of Technology and Innovation
MANA 7346 — Global Human Resource Management
MANA 7347 — Managerial Ethics and Corporate Social Responsibility
2 technical courses offered by Cullen College of Engineering
All technical courses must be approved by the Program Director.
The online MEMGMT program focuses on the integration of engineering principles, advanced technologies and business practices and functions. Following illustration is the scope of academic disciplines including their overlaps that is the foundation of the Engineering Management graduate program.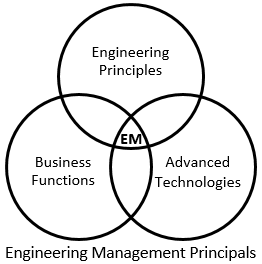 Additional Information
Click here to schedule a time to speak with an Online Program Recruiter. 
For admission requirements, advising, and other information specific to the industrial engineering program:
https://www.ie.uh.edu/graduate/overview
https://www.ie.uh.edu/graduate/degree-programs/memgmt